About Us
---
Protecting Your Environment
Welcome to the Lake in the Hills Sanitary District (LITHSD)! The Lake in the Hills Sanitary District formed under the Sanitary District Act of 1917 and was established by voter referendum in 1963. The Lake in the Hills Sanitary District provides wastewater treatment for the entire village of Lake in the Hills and portions of the City of Crystal Lake and Village of Huntley. It is not a part of any other local, municipal, county, township or state government.
Lake in the Hills Sanitary District operates a 4.5 MGD (Million Gallons per Day) wastewater treatment facility located at 515 Plum St. in Lake in the Hills, servicing over 125 miles of large diameter sanitary trunk sewers and collection system mains and maintaining 6 pumping stations that transport wastewater to the treatment facility.
The District is governed by a 3 member Board of Trustees who are appointed by the Chairman of the McHenry County Board with the advice and consent of the county board members. The trustees establish District policy and adopt rules and regulations governing the operation of the District. Board meetings are the third Thursday of each month at 7PM at the District office located at 515 Plum St. Lake in the Hills, IL.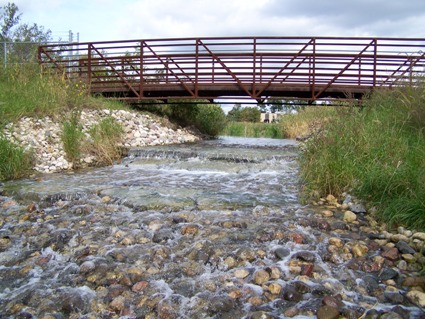 Final Effluent Outfall
What Is Wastewater And Why Do We "Treat" It?
Wastewater is used water from a community's toilets, sinks, showers, dishwashers and washing machines, along with commercial and industrial waste. About 0.1% of this waste water is solid material. If wastewater was not treated before being discharged into a body of water, bacteria would use all the oxygen in the water while consuming the waste. This would kill fish and other beneficial life which also needs oxygen. A stream full of untreated wastewater would also be aesthetically displeasing and a risk to human health.