Announcements/News
---
Announcements, News and Safety Tips from the Lake in the Hills Sanitary District
Executive Order 11/17/20
Executive Order 2020-07 provides that for the duration of the COVID-19 Gubernatorial Disaster Proclamation, the provisions of the Open Meetings Act pertaining to in-person attendance of members of a public body are suspended, allowing for Township meetings to be held electronically and providing the public remote access to the proceedings.
VIRTUAL MEETINGS
The Board President of the Lake in the Hills Sanitary District has determined that an in-person meeting is not practical or prudent at this time due to the pending disaster related to the COVID-19 pandemic. In a measure to protect the safety of the public, staff and officers of the Sanitary District, the Board will hold this meeting electronically via the following: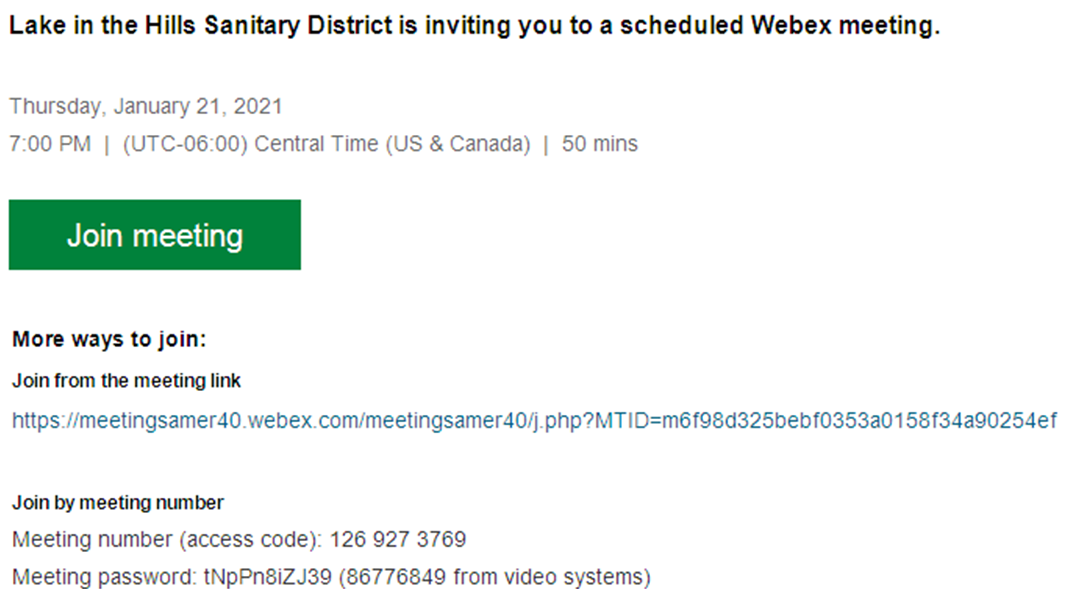 PUBLIC NOTICE
PROJECTS FOR BID
To continue to provide great service year after year our infrastructure and facilities routinely require updating. These updates/projects creates great opportunities for local contractors. Here you will find the most up to date information regarding our current projects out for bid.
Back Up Time!!
Spring and summer are the seasons that sewer backups are most common. You can prevent backups by following these suggestions:
*If you are on a wooded lot, make sure that the tree roots are not causing a problem by regularly flushing your system with a root destroyer. These are available at most hardware stores. Read the contents carefully to make sure that your plumbing fixtures will not be damaged.
*Flush only appropriate items! Excessive grease will cause blockages. Solid items could cause blockages and damage your equipment. Solid items would also damage the Sanitary District equipment.
*If you are in a low area you could install a drain plug in the floor drain. This prevents a backup and you simply remove it when you need the drain. These are available at most hardware stores.
**The property owner is responsible for blockages, cracks, or other problems in the line from the sewer main to their home. This is the area that most problems occur. Sewer/Water Backup insurance provides protection from the damage caused by the backup. Most homeowner policies provide this coverage ONLY through an additional endorsement. Check with your insurance agent to make sure that you have this coverage. We highly recommend this coverage!**
Hopefully these tips are helpful. If you have any questions, please call the Lake in the Hills Sanitary District office at 847-658-5122.