Billing Information
---
Forms & Documents
Typical Household Rate
The Lake in the Hills Sanitary District bills each household a flat rate of $66.00 + $6 Bio Fee every 3 months (quarterly).
Commercial Rates
Commercial and larger properties are billed based on a single family equivalent of water usage and are also billed quarterly. For more information on commercial rates contact us during our regular business hours Mon. - Fri. 8am - 3:30pm.
Senior Rate
Application can be made at the Sanitary District for a reduced senior citizen rate. In order to qualify you must show proof of being age 65 or older, own the property and reside at the service address. The senior citizen rate is a flat $55.50 + $6 Bio Fee that is also billed quarterly.
Selling your home??
Have your attorney contact the Sanitary District for the final bill.
Billing Quarters & Due Dates
Current billing quarters are as follows: (1st qtr) January – March is due in April, (2nd qtr) April – June is due in July, (3rd qtr) July – September is due in October & (4th qtr) October – December is due in January. Bills are generated at the end of each quarter. Payment is due approximately 20 days (depending on weekends and holidays), from when the bills mail. Penalties (10%) are assessed the day after the designated due date. Past Due/Delinquent reminders are mailed the second month of the current quarter. After 90 days of non-payment, we will review for consideration of water shut off for non-payment of sewer bill.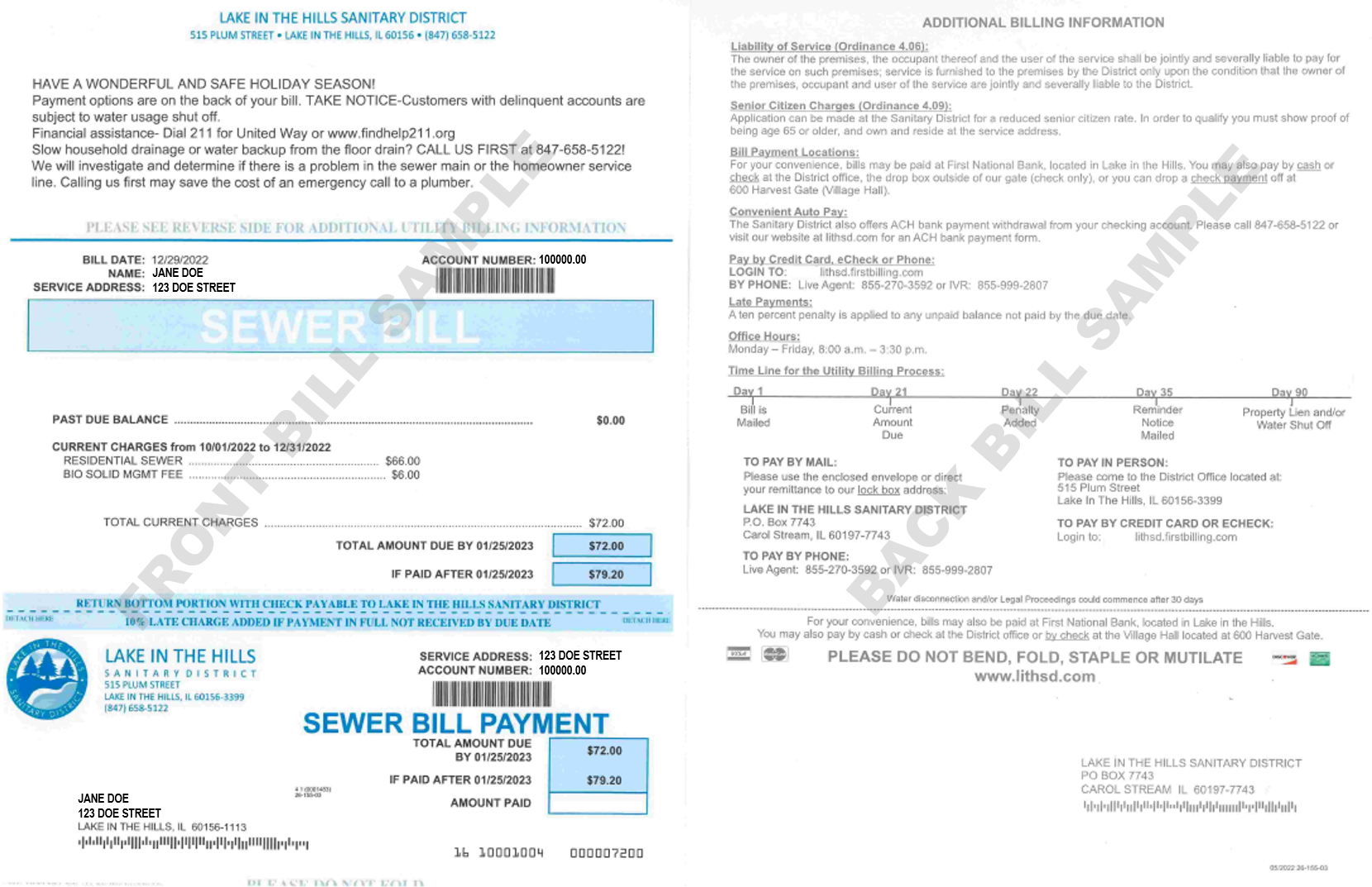 (Typical Bill Sample)
Ways to Pay Your Bill
---
Pay in Person
To pay in person please come to the District Office located at: 515 Plum St. Lake in the Hills, IL 60156-3399. For additional convenience bills can be paid at First National Bank in Lake in the Hills. You may also pay by check at the Village Hall located at 600 Harvest Gate. Both the Sanitary District and Village Hall have 24 hour accessible drop boxes for your convenience.
Convenient Auto Pay
The Sanitary District also offers ACH payment from checking or savings accounts (bank must provide a letter with your bank information). If interested download the application here and return to the District Offices during normal business hours to complete enrollment. Please notify us in writing of any change of address, and any change or termination to your "Auto Pay" account.
Pay by Mail
Please use the return envelop that is enclosed with your monthly bill and mail back to the lock box address: Lake in the Hills Sanitary District P.O. Box 7743 Carol Stream, IL 60197-7743.
Pay by Phone with Credit Card
Call toll free 855-999-2807. Have your Account Number (located on your quarterly bill) and service address readily available to complete the payment. Only MasterCard(c), Visa(c), Discover(c) and echeck payments are accepted.
New online payment with system PayaGov/First Billing. Visit lithsd.firstbilling.com to set up your account to make an on line payment. For online payment issues please use online support via the contact information listed below.
IVR#: 855-999-2807 Live Agent#: 855-270-3592
FOR ALL METHODS OF PAYMENT , INCLUDING ONLINE PAYMENTS, PLEASE MAKE SURE TO POST YOUR PAYMENT PRIOR TO 3:30 P.M. ON OR BEFORE THE DUE DATE TO AVOID LATE FEES.