Sewer Lining Project
---
July 2023 Sewer Lining Project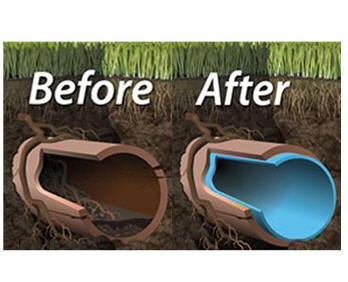 The Lake in the Hills Sanitary District is excited to announce the start of a much-needed sewer main rehabilitation project to trenchless-ly update our aging infrastructure. This will start in August of 2023.
We have contracted with National Power Rodding to install fiberglass liners in a select set of sewer mains shown in the map below. These mains are in our most problematic area, have been thoroughly inspected, and deemed the most in need of improvement.
The 5 main benefits of doing this are:
<![if !supportLists]> 1. <![endif]>Lining old sewer main material that's near the end of it's shelf life
<![if !supportLists]> 2. <![endif]>Reducing inflow and infiltration of excessive water overloading the system
<![if !supportLists]> 3. <![endif]>Eliminating roots and other intrusions
<![if !supportLists]> 4. <![endif]>Improving velocity and flow
<![if !supportLists]> 5. <![endif]>Reducing cost of sewer systems operations
This is the beginning of a project that will take place over the next several years. Our goal is to eliminate the problematic areas and ensure the security and functionality of the sewer system for years to come.
What is sewer lining? Good Question!
Sewer lining requires no excavation, creates limited or no interruptions to the sanitary sewer system, and rehabilitates the existing infrastructure, providing a significant increase in the useful life of the system.
Installation of the pipe lining is relatively unobtrusive. The process requires the contractor to insert a plastic liner into the sanitary sewer main that homes and/or businesses may directly discharge into. Prior to the sanitary lining work, the contractor will distribute notices to properties affected by lining work, requesting them to refrain from any heavy or discretionary waste water producing activities (clothes and dish washing) for approximately 12 hours. Each section of lined sewer pipe (manhole to manhole) typically requires 24 hours or less to complete.

During the lining process the contractor will access manholes located near homes and businesses. The contractor may need to access manholes located in the street in front of properties or in the rear yard of properties. The contractor will not need to enter a private home or business. District personnel will be monitoring the progress of the work throughout this project.

It is possible that during the installation of the liner, residents may detect a "plastic" odor in the area. The odor should dissipate within a few hours. If residents notice an unusual smell in their home, or if the odor remains detectable outside for a prolonged period, please call the Sanitary District at 847-658-5122.

Map of 2023 Sewer mains to be lined.